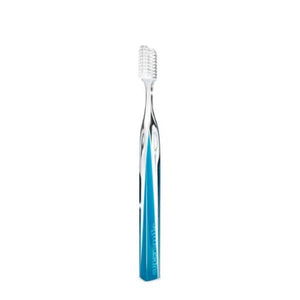 Crystal Collection 45º Toothbrushes
Sale price Price $20.00 Regular price Unit price / per
A true balance of art and science! Sure, it looks sleek on your sink, but it's the only toothbrush recommended by aesthetic dentists worldwide. Why? It features our patented brush head that cleans below the gum line where plaque and bacteria like to hide out while also polishing your teeth. Our ergonomic handle creates the ideal angle for proper brushing every time. This is one crystal everyone should have in their home.
The ONLY toothbrush recommended by aesthetic dentists (and we can back that up!)
Designed by acclaimed fashion designer, Rubin Singer
Unique brush head that cleans under the gum line
Ergonomic handle that guarantees proper brushing
Stands upright for hygienic drying
How to Use
On a DRY toothbrush, place a pearl-sized drop of Professional Whitening Toothpaste and Professional Whitening Accelerator. Brush for two minutes, twice daily. Replace brush every 3-4 months.