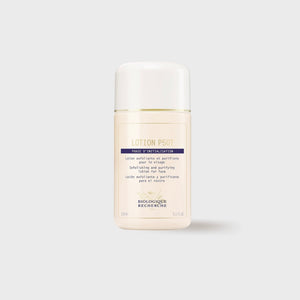 Lotion P50T
Login to view price.
Exfoliating and purifying lotion for the face
Initialization Stage -Lotion
• EXFOLIATING • PURIFYING • MATTIFYING
A cornerstone of Biologique Recherche's method of epidermal reconditioning, Lotion P50 is a multifunctional lotion that exfoliates, cleanses, and purifies the epidermis, helping it maintain its acid pH balance. With daily gentle purification, the skin becomes mattified and regenerated.
Recommended for Skin Instants© that are prone to seborrhea and/or keratinized.
INSTRUCTIONS FOR USE
1. The 1st week: Apply the lotion with a damp cotton pad, dabbing over the face, neck and décolleté using upward strokes
2. The following days: soak a cotton pad with just lotion
PRECAUTIONS FOR USE
Do not use on children under 3, nor on scratched or irritated skin, nor during a treatment with retinoic acid. Avoid sun exposure immediately after applying the product. For external use only. Avoid contact with eyes and the area around the eyes. If the product gets into the eyes, rinse thoroughly with clean water for 1 to 2 minutes.